Break the spell and reap the rewards of the Qin Aura, Blood and Jade's newest Challenge! Attack enemies in the right order for serious Copper and a chance to challenge Ying Jade, but skip a letter and face the wrath of the Qin Champions! Read on for details!
Requirements: Character lvl.40+; solo or as a party.
Time: Everyday from 00:00 - 23:59; one attempt daily.
can be found in the Wits tab under the Challenges panel.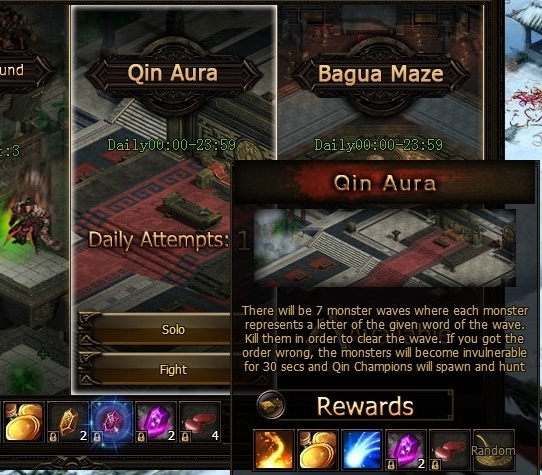 How to play: You will be given a word/phrase which you'll need to spell by killing monsters in order. Clear 7 waves of monsters and defeat the BOSS Ying Jade to win.
Note: If you skip any letters the monsters will become invulnerable for 30 secs. Qin Champions will also spawn and hunt you down.
Rewards:
1. Win the challenge to get tons of EXP, Chi and Copper. You'll also get additional random rewards including Blessed Iron x2, Forget-Me-Not x1, etc.
2. You'll also get a massive amount of Copper for each monster you slay.